To create a new landing page or website page from scratch:
In your HubSpot account, navigate to your landing pages or website pages.
In the upper right, click the Create dropdown menu and select Website page or Landing page.
Hover over a template and click Preview in the upper right to see how it will appear on desktop or mobile device.
To create a new page with this template, click Use template in the upper right.
Give your page an internal page name and click Create page.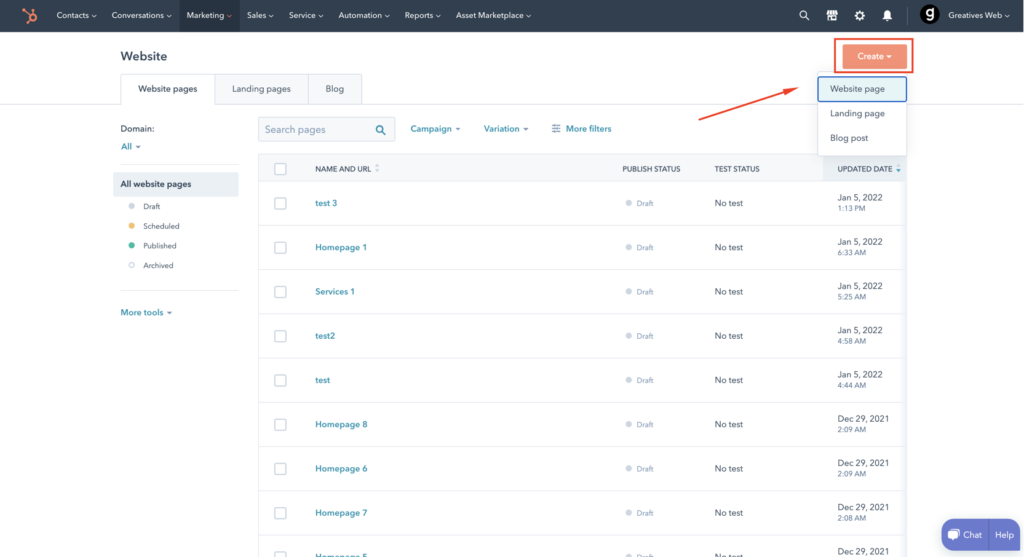 Edit page content
Uranus is composed of modules, which can be grouped into horizontal rows or vertical columns. Modules, rows, or columns may be grouped into sections of elements, which are outlined in the page editor.
Most modules on your page can be edited inline directly within the content editor. Some module types require additional content customization in the left panel.
To customize content within a module, hover over the module and click the icon for the desired action:
Edit: edit the contents of your module inline directly on the page, or in the left panel. Most text can be edited within the content editor, and all types of modules can be edited in the Options tab on the left panel. Learn more about editing module content.
Style: manage the styles available on this module within the Style panel on the left. Most module styles can be managed in the Style tab, but some style options specific to your theme may be available within the Options tab.
Clone: make a copy of this module on your page.
Delete: remove this module from your page.